Additional Rules





1. No Member may play the violin, as the sound of the violin may disrupt the life patterns of squrriels!





II. Cows may be included as memebers at the discretion of the Coconut Boy High Council.





III. Memebers must be of the age of twelve or higher. Children under the age of twelve are evil!





IV. No Bald people, because bald people confuse squirrels!





V. Must play a sport, MINUS golf, golf is not a sport!(swimming is okay as long as guys don't wear speedos!)





VI. All Coconut Boys, Coconut Girls must stay & keep themselves in good physical condition. (Examples: Must be able to run 1 mile in under 8 minutes and do 50 push-ups.)





VII. All members must maintain a gpa of 2.0 or higher. If a member's gpa dips below 2.0, that member will be immediately deported to France.





IIX. No persons by the name of Natasha Bedingfield or Carrie Underwood may be admitted in the Coconut Boys Mafia. Stop trying to join!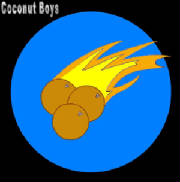 Major Rules
1A. Coconut Boys must be of the male gender barring certain special situations. (See Below For Exceptions)

1B. Persons of the female gender maybe included as full functioning members of the Coconut Boys under the discretion of the Coconut Boy High Counsil or by direct order of the Head Squirrel.

2. All persons belonging to the Coconut Boys Mafia must make at least one lifetime pilgrimage to the Angel Stadium in Anahiem, Ca and attend at least one game during their lifetime.

3. No Canadians may join the Coconut Boys, except Avril Lavigne & Elisha Cuthbert. However, the Coconut Boys will consider reversing this rule if Canada sent us $50 million dollars (in cash, US dollars!) and 500 lbs of mixed nuts.

3A. Canadians may now join the Coconut Boys upon approval of the Coconut Boy High Counsil.

4.All members must follow all of the additional rules. Failure to comply with the rules will result in punishment by Warrior Squirrel. Warrior Squirrel Shows No Mercy!


5. No members may be fans of the Atlanta Braves or any affliated baseball team. The Atlanta Braves are the sign of pure evil.
6. Chipmunks may be admitted into the Coconut Boys.



IX. Persons of the female gender admitted into the Coconut Boys Mafia will be referred to as Coconut Chicks.
X. Coconut Chicks are allowed to miss Saturday night tent meetings but must attend all other meetings.